There were so many more reviews I had planned on posting on this blog throughout the year (particularly the latter half or the year) and I never got around to it, for whatever reason. And, well, there's only a small handful of days left until 2013 comes to a close. So before that happens, I'm going to try and post some Review Roundups giving my brief thoughts on some movies, TV shows and books that I watched and read that I really enjoyed and want to recommend. So first up, the movies:
Bully
This documentary was such a hard movie to watch. The title explains it all; the film chronicles five school-age children and their families during a school year, and Lee Hirsch, the filmmaker, did such an exceptional job documenting what goes on every day in our schools with regards to bullying. We all know it happens, but to see a first-hand account and actually go into the schools and the homes of these kids is really eye-opening.
There's one student in particular that stands out: Alex, who was in middle school at the time. He was bullied incessantly, for all sorts of things, including for the way he looked. It's heartbreaking to hear him and the others talk about their experiences and even see some of the bullying happen on screen.
And that's one of the biggest shocks, is that even though these students knew they were being filmed, they still continued with their bullying ways no matter what. You'd think you'd want to be on their best behavior during times like that, but to get to that point where you'll still do it regardless of who's watching is unbelievable.
Something else that's unbelievable is how incompetent the school administration officials were. It's like they weren't even aware bullying was going on in their schools. And even if they were aware, they weren't motivated to do anything about it. As someone who at one time was pursing a career in teaching, I can't imagine working in a school where the officials don't even bother to reprimand the bullies, and instead treat the victims like they're the ones who did something bad.
When Bully first came out, there was a lot of controversy over the rating, and how the filmmakers tried appealing the MPAA decision so that more minors would have the opportunity to see the film. And see the film they must. Bully is a must-see for everyone: students, teachers, school officials, parents and even those who don't have kids or aren't involved in the school system.
Exporting Raymond
Then we move on to something more lighthearted. If you're a fan of Everybody Loves Raymond like I am, you should definitely check this out. Exporting Raymond is also a documentary, and it follows the sitcom's creator, Phil Rosenthal, as he travels to Russia to help them create their own version of Raymond. What's great about this is just as there's loads of humor on the sitcom, there's also a ton of humor in this film. Russia and the United States are two very different countries with two different types of audiences. And translating a show that we all loved here to a country that might see things differently or might not understand certain jokes or characters the same as we do results in loads of laughs.
You can see the struggles that Rosenthal goes through as he tries to persuade various TV execs and others on why certain elements of Everybody Loves Raymond are the way they are and why they need to stay that way to maintain the appeal and heart of the show. And of course there's always that give and take. Certain cultural elements needed to be modified to suit the Russian culture and audience. He has disagreements with many of the production crew and these sort of "rivalries" formed, if that's even the right word.
I don't want to delve too much into it because it's so much fun as a first-time viewer to experience this journey with all the ups and downs, the humor, the tension, everything. I ended up enjoying Exporting Raymond far more than I thought I would, and you know what? It makes me want to flip on some reruns of Everybody Loves Raymond.
Monsters University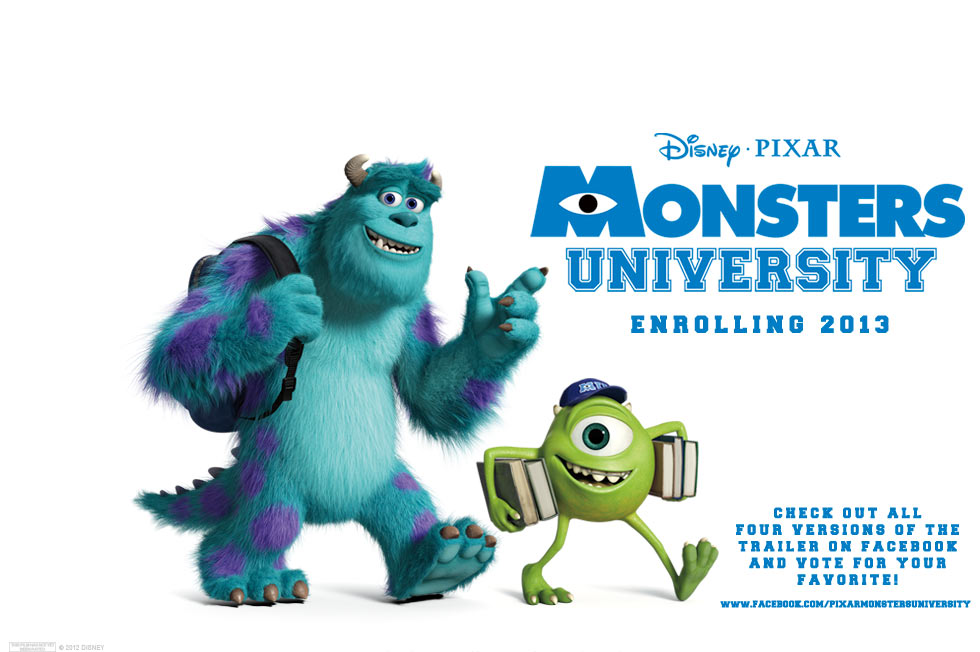 The latest Pixar film got some mixed reviews, especially since it's really hard to create a sequel (or in this case, a prequel) that can live up to the original. And in Pixar's case, this is a company that people set to very high standards, so when you have a Cars 2 or a Monsters University, there's bound to be extra scrutiny.
As far as Pixar sequels/prequels are concerned, it's nowhere near the disaster that Cars 2 was. And it's not the perfect film that Toy Story 3 was. But I still recommend it because I came in expecting to be entertained and I was by no means let down. Having a prequel sets up a whole new world, in a way, because we get to experience a time in Mike and Sully's life that is completely different than in Monsters Inc. And to put it simply, I had a blast watching it.
The quality of animation has improved immensely since the original film came out, which is definitely noticeable. There's one scene in particular that stands out to me on this topic, but at the same time, it's also a scene that I have a little bit of a gripe with. It's when they go to the cabins in the human world. The animation is so exceptional that there are moments you could almost mistake it for something in real life. To me, this is also a major continuity issue. The human world and the humans looked a certain way in the original film, and regardless of the advances in animation, I would have loved to see them maintain that original look, mainly for continuity reasons, as I mentioned. It almost seemed out of place.
But when you look at the film as a whole, it's highly entertaining, and just when what you think is the climax has come and gone, there's still more left in the movie to explore, which was great. Mike and Sully are fantastic characters, and this is a movie that people of all ages, both kids and adults, will enjoy. (On a related note, I received Monsters University as a gift this Christmas! I can't wait to watch it again.)
Flight
Talk about a movie that came out of nowhere. At least to me. This isn't usually the type of movie I see, but what intrigued me was the fact that the protagonist (who's a pilot) gets into the cockpit for a flight while under the influence of alcohol. When I heard that synopsis, I'm going, whoa, this sounds like an interesting film. And that's a huge understatement. I was blown away by Flight. What starts out as Denzel Washington's character being perceived as a hero soon unravels and he's scrutinized to no end--and rightly so, of course. The scene where he has to land the plane and he ends up flipping it upside down at one point is unbelievable to watch.
This is very much a character movie, where we delve into who he is as a person, examining what his personal life is like and if he really can change. The final lines of the movie are extremely powerful. I'm not sure if this would be considered a spoiler, but in the final scene in Fight, someone (I won't say who, though maybe you can gather who I'm referring to) says, "The essay I have to write, it's called, the most fascinating person I've never met. ... So, who are you?" And Washington's character replies simply, "That's a good question."
I was expecting Flight to be just another movie. But I was entranced pretty much the entire time, and came away in awe of what the filmmakers created.
Silver Linings Playbook
Jennifer Lawrence has become my favorite person in Hollywood (well, Ellen DeGeneres will always remain #1 for me, but you get the point). She's one of the most hilarious people during interviews, and she commands the screen in every movie she's in, from Winter's Bone to The Hunger Games series and now Silver Linings Playbook. My bias towards her is why I watched this movie; I don't think I would have otherwise, but I'm glad I did.
I hadn't read the book, so I really didn't know what the movie was about. I'm not going to go on and on about the plot (even though it's top-notch) because to me, the two leads steal the show. Bradley Cooper and Jennifer Lawrence have some of the best on screen chemistry. Their interactions throughout are so much fun to watch. Their characters, they both have issues in their lives, and when they come together, the way they play off of each other and rile each other up and everything they do together is pure gold. It's obvious why Lawrence won an Oscar for her role.
To sum up, watch for Cooper and Lawrence and stay for everything else that unfolds along the way: the humor, the tragedy, the level of talent among all the actors, the script, the directing.
I Recommend: Bully, Exporting Raymond, Monsters University, Flight & Silver Linings Playbook