(Image courtesy of USA)
Jeff Dodge's Recommendations:



TV Miniseries:
Political Animals (Sundays, 10-11pm, USA)

However many weeks or months ago I first heard that this show was being created, I was a little intrigued, but nothing much more. I say that because at the time, all we knew was a general idea of what the show was going to be about. And since I'm a political news junkie, I decided to include this show in my TV Schedule doc of upcoming shows.

But as we got closer and closer to the debut, I kept hearing more and more about Political Animals, a USA Network miniseries about a former First Lady turned eventual Secretary of State, whose husband is a known philanderer. Sound familiar? You bet it does. And that's what drew me in and why I wanted to watch it, that the ground floor concept for this show was essentially based on Hillary Clinton. (Of course, those who have been watching know that there are differences and that it's much more than that.)

Sigourney Weaver plays Elaine Barrish, the Secretary of State, who ran for President in 2008 and lost and joined the winner's administration. One of the best parts of Political Animals is Weaver herself. If you're going to have a character like this, she needs to breathe and exude strength, power and an aura about her that makes you fascinated by her. And Weaver does all of that and more as she becomes Barrish.

There really is nothing I can say that's too critical about this show. But I will say my main (and possibly only) critique is with Budd Hammond, the Secretary of State's wife and former President of the United States. He's the Bill Clinton of the show--former president, cheater, etc. But the thing about Bill Clinton is that he's a charming person. But Budd isn't charming at all. He's kind of sleazy, and I can't for the life of me figure out how Barrish wanted to marry him in the first place. I guess it's a good thing Barrish divorced him.

I was sucked into this show right from the first moments. And once that premiere ended, I knew that I'd be watching the remaining episodes. There will be six episodes total as part of what they're calling a miniseries. Apparently, USA is known for turning their miniseries into full-fledged TV shows. And my hope is that they'll do the same for Political Animals, though that all really depends on the ratings, which started off with decent (though not fantastic) numbers. The unfortunate part of all this is the timeslot. I swear that cable TV puts all of their main shows on Sunday nights (and especially at 10pm). Should USA decide to extend the run, my hope is that they air it on a different night and time where it has the chance for more people to tune in.

And I really do want it to continue. There is so much potential for a continuation that I would hate for these six episodes to be the only hours to tell the story. And when I say pontential, I really mean it, because there was a secret that the Secretary of State reveals in the final seconds of the premiere that would have a huge impact for all the characters on the show. And that storyline, which keeps gaining momentum with each episode, needs a longer run to see it through. (If you've seen the show, you know what I'm talking about.)

Political Animals is halfway through its run, and it continues airing for the next three weeks, including tonight (and the finale is August 19) at 10pm on USA. I urge you to watch this show. If you haven't yet and want to catch up, all the previous episodes are available to watch for free on Hulu, and I've embedded the pilot below for easy access.


TV Show:
Opening Act (Mondays, 10-11pm, E!)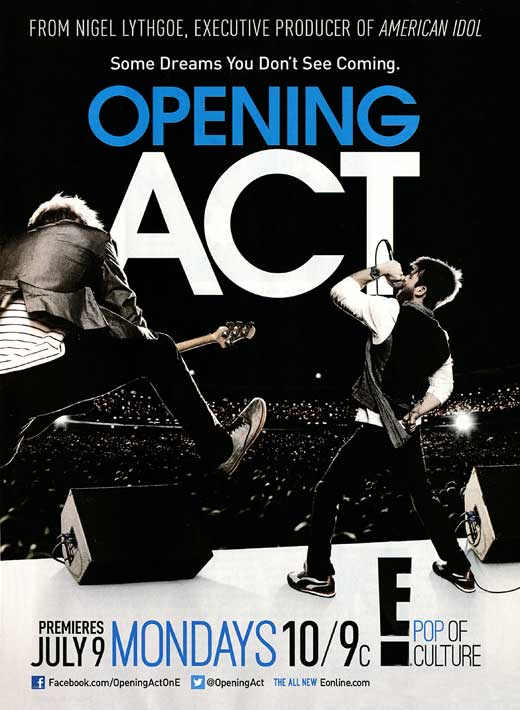 If you watch American Idol, you're probably familiar with the showrunner and executive producer of Idol, Nigel Lythgoe. (You may also know him from So You Think You Can Dance.) Well, now he's got a new show on the air called Opening Act on the E! network.

On any network today (basic or cable), you're bound to come across all sorts of singing (or dancing or talent) competitions. FOX and NBC have the main ones (American Idol, The X Factor, The Voice). The CW will begin airing their own version pretty soon. And E! recently debuted Opening Act, created by Lythgoe (who also stars on the show).

But it's nothing like Idol or the others, because it's not in a competition format. Lythgoe and his team watch submitted videos of amateur singers and invite one each week to be the opening act for a famous artist (we've already seen Rod Stewart, Gym Class Heroes, Jason Aldean and Jason Mraz). They usually fly out to Los Angeles and spend a week with various coaches and producers and such to prepare for their big moment.

To be honest, I wasn't expecting much from this show when it began. I just thought it'd be just another talent show. And I thought I was just going to watch the first episode just to see what it was like and then be done with it. But I was so pleasantly surprised by it that I'm in now, and I'm watching each week.

It really is a feel-good show. There's the excitement of finding out they've been selected. And once the whole process begins, there usually are many down moments for these people. They stress out, feel like they're failing, and wonder if they can go through with it. But that's why they have a team working with them to make sure they're 100% ready. And by the end of it, they are able to shine on stage as the opening act, and sometimes actually perform with the star.

And speaking of the team, my favorite is the vocal coach, Nick Cooper. What's so fantastic about him is that he's more than just a vocal coach. Once he starts working with the singers, he figures out their personal weaknesses and insecurities (such as a lack of confidence or whatever the case might be), gets them to realize what's holding them back and guides them toward becoming a better person, which in turn helps them to be a better performer and singer.

I'm not sure how many episodes Opening Act will air, but be sure to tune in Monday nights (though it's not on this week, most likely due to the Olympics) at 10pm on E!

Websites:
TV Watch Online (@TVWatchOnline)
BuddyTV

Jeff Dodge Blog:
I Recommend: 'The Artist' Film & 'The Enchantress' Book

BuddyTV Articles (Articles I've written recently):
'Glee's Chord Overstreet to Become Series Regular, Cast Confirmed to Return
Kelly Clarkson's 'Stronger' Becomes Best Selling 'Idol' Single of All Time
Jennifer Hudson May Leave 'American Idol' -- Who Should Replace Her?
'Glee' at Comic-Con: What to Expect in Ohio and New York
Exclusive Video Interview: 'Glee's Jane Lynch on Season 4 and Sue's Baby
Why Jennifer Lopez and Steve Tyler May Have Left 'American Idol'
Mariah Carey Announced as New 'American Idol' Judge
Brad Paisley Being Considered as 'American Idol' Judge
Brad Paisley Meeting with 'American Idol' Producers About Becoming Judge
'Glee' Video: Ryan Murphy Releases Klaine Box Scene

I want to highlight one of the articles above. Recently, I had the chance to talk with Glee star Jane Lynch about a new education campaign she's a part of (Don't Major in Debt) as well as season 4 of Glee. You can read my BuddyTV article and watch the video of Lynch speaking with me. (I might have a separate blog post just to talk about this interview.)

#1 Recommendation: Political Animals

Sometime soon, I'll have more Recommendations up here, including ones for Harry Potter: Page to Screen and The Amazing Spider-Man.

Follow me on Twitter @TheJeffDodge. If you have any questions, comments or suggestions (or your own recommendations), either tweet me, e-mail me or leave a comment below.